Hey everyone :) I hope you all had a wonderful thanksgiving! We spent ours with friends and had a great time.
Time has simply flown by lately, I cannot believe that on Saturday we will be 28 weeks pregnant. Officially in the third trimester as of last week. It's hard to believe but Miss Gummy Bear will be here in just 12-13 weeks!
With time flying came life flying at the same pace this month. Remember that in October we were forced out of our rental home into an apartment with very short notice? Well, November came, and with November was more drama. My husband was laid off on November 7th, from a really great job. Over 200 people were laid off with him. Talk about stressful. We have some severance and insurance through January, so I've tried hard not to stress myself. DH already found a temporary job to hold us til he finds a new permanent position and get us through Christmas, so that is very helpful. In January we will sign up for COBRA to finish out the pregnancy with. I will be very thankful for the agency when that time comes, because I have no idea what I'm doing!
Over the weekend, my husband and I celebrated our 10th Anniversary. I was feeling a little frumpy, so I decided to use more of my maternity clothes budget that I had saved back for warmer clothes. My friend and I went to Macy's during an awesome sale, and I got a bunch of stuff that I'm happy to wear. It was a very pleasant shopping trip. I also got my hair cut. Then hubby and I went on a wonderful date. All in all, it was a great weekend. Here are a few pics for you <3
Me and hubby on our date night...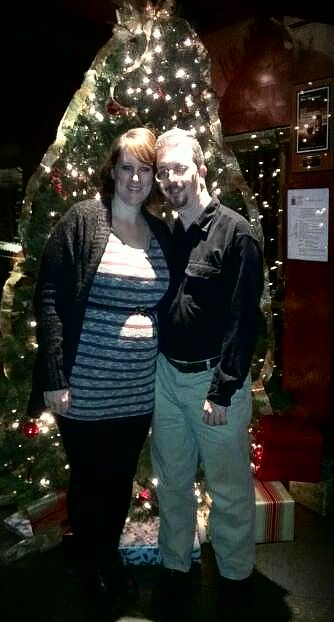 One of the new outfits, a really comfy dress and leggings...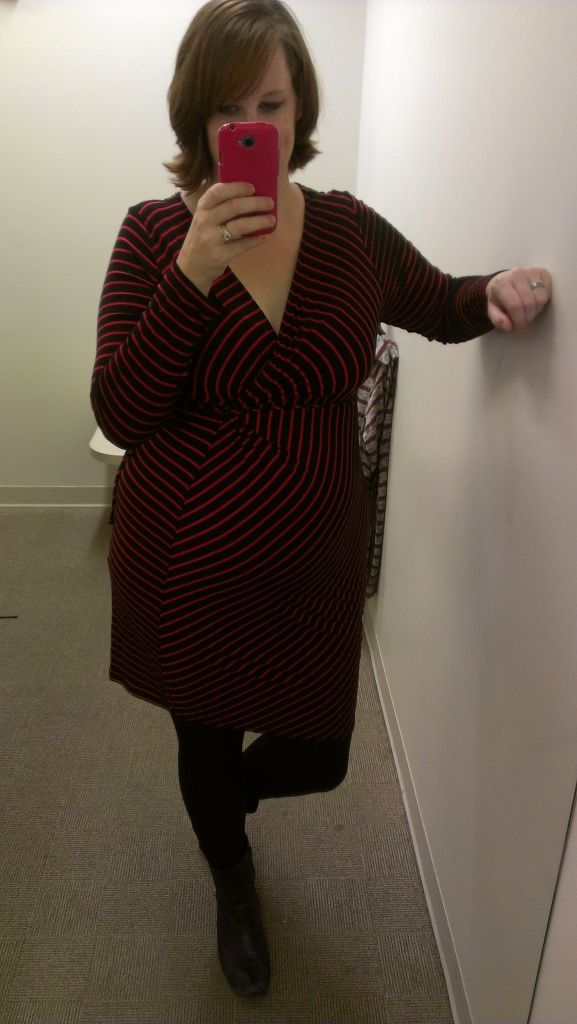 Another new sweater dress, this one is going to count as my belly pic since it shows off the belly the most:
Yesterday was my 27 week appointment and glucose test. Yuck! Thankfully the test was only the hour test and not a fasting test either. I am anxiously awaiting the results though, because despite all my efforts to cut back on sweets over the past week or two, I couldn't hold off on Monday. I had a terrible headache and knew instinctively that chocolate and a little dr. pepper would help, it did. But I'm kind of worried that it will make me bomb the test. I'll update here when we get the results.
Anyway, the rest of the appointment went well. It was one of those awesome appointments when you get to bare it all. I had an internal cervix check, where it was confirmed that all the movement I've been feeling the past month was doing what it was supposed to do. Miss Gummy Bear got herself into a head down position finally. Which after so long of her being straight up, is relieving. It's hilarious to see her little bum sticking out up by my ribs, though. My cervix is also high and closed, which is wonderful.
As for me, my weight gain is going great, according to the doctor. I, personally, don't like seeing the scale go up 5lbs in a month, but she said it was on par with a good weight gain track. So the 5lbs gain puts me at a total gain of 13lbs. Remembering that I lost 14lbs to start with, I'm actually still down a pound from the beginning. She'd like to see me only gain 25lbs total, so hopefully I can stay on this track and only gain a pound per week from here on out. Not sure how that will work with Christmas and New Years, but I can give it a good try!
That's all for now, folks! Thanks for reading! Next appointment is December 20th in the morning. After that I start seeing the dr. every 2 weeks!