Well Hi! It's been awhile since I've been over to the blog to write! Never fear, I am here! ha!
Life since having Miss Molly has been pretty good over all. The boys are enjoying having me, for the most part, back! I'm still pumping, so a bit of my time goes toward that. I pumped for a local little boy for awhile, and now I'm pumping for the preemie milk bank for at least the summer. It was such an easy to transition to go from having a baby for someone and then continuing the journey by helping another family out for a little while. The fun never ends!
Molly is now about 18 weeks old and cute as a button! I still talk with Katie and hear how she's doing often, which blesses my heart incredibly. For Mother's Day, I sent Katie a Shutterfly book with all the pictures from the blog and a few from the birth as well. I'm pleased as punch that they loved it and shared it with their family! I really couldn't ask for a more amazing journey or the friendship I still have with Katie, now!
I realized a short time ago, that I never came back and said a few things I really wanted to say and didn't. It's been on my heart and mind and I felt this blog was incomplete with out it.
Thank you to all who followed along as I found my way to and through the journey.
I really am so blessed to have had such great support through my friends and many of my family members. It would not have been the same without you all! Though the process of getting to finally "deliver a dream" was often hard and long prior to meeting Katie and family, I relied on faith and prayers through it all and am so grateful for those who prayed with me over everything. But everything was for a purpose and I learned so much along the way.
At the end of my birth story, I shared with you what my husband asked me and what my answer was... Would I do it again? and YES! Well, I'm beginning the process of looking for another family to help, now, and I am so excited to be just getting the process going again. I really feel this is a calling God has placed on my life, and am so ready to start again.
So... to be continued, right? I can't wait!
Oh, no... did you think I would end this post without a picture of Molly!?! Nah!! I couldn't do that!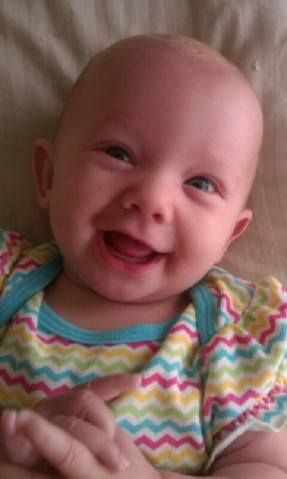 Isn't she just precious?!