Wow time is FLYING by! I say this every post, but I really can't believe how fast this is going. We are 32 weeks and 5 days right now. The holidays definitely made the last two weeks seem to go by even faster than usual.
Over the holidays, my family kept it low-key. We had a great Christmas... of course the boys were spoiled. I was, too. I got new knives, a necklace, pans and a pregnancy pillow, and got myself some new makeup. I felt so spoiled and blessed. Add to it that we had a wonderfully white Christmas afternoon, and Christmas was perfect.
Here's a little snow lovin' for you...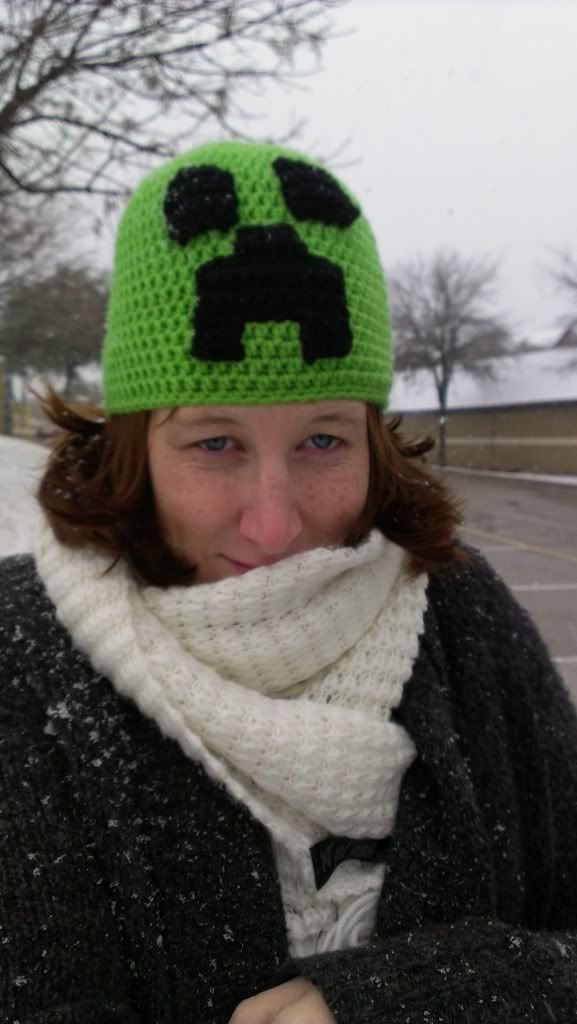 (wearing no make up (ah!!!) and my kids new beanie because I don't have one and they had hoods on their coats)
Oh... and one with my new pillow...
Another for fun, we went to the mall for a bit and DH got a snack at Chick Fil A with no pickles. I thought it would be funny to put the no pickles sticker on my belly. There aren't any pickles in there!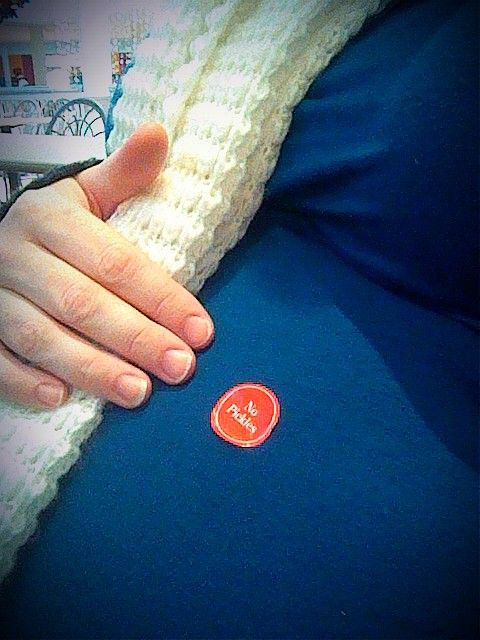 Friday night I met with Maria, my doula for delivery day. It made it feel so real and so soon discussing everything we desired for the birth. It was a great discussion and I'm excited to start drawing up our birth plan soon.
Over this last week, I had the misfortune of losing my wedding rings, my anniversary ring, and a necklace my DH had gotten me for Christmas. One foul swoop. By Saturday, after keeping it low key all week and the dreary weather keeping us inside, I was experiencing major cabin fever along with the sadness of losing my jewelry. So I skipped out on the kids and hubby and headed to a lunch with a bunch of other surro girls at the Cheesecake Factory. It's no surprise what I ate. Steak. and Cheesecake of course. Every time I eat out lately, all I want is steak. So it's become a staple for me! Anyway, I had a GREAT time and loved meeting new surros and surros I loved hanging out with already. Pic below!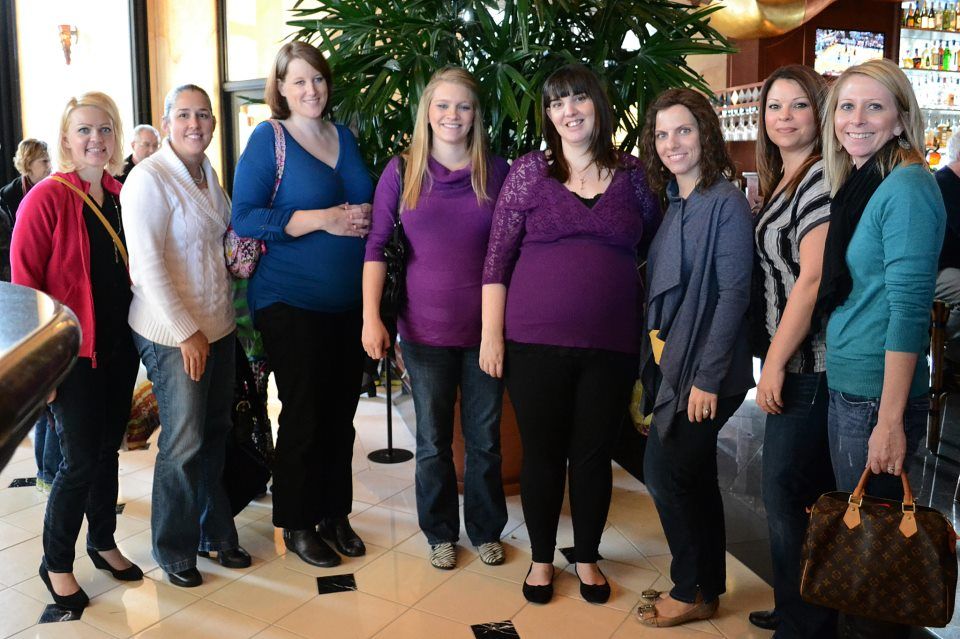 And... My friend and fellow surro brought me a sweet gesture to help me not be so sad over my rings. A simple and very pretty band to wear until I'm able to replace the ones I lost. I nearly cried at the table when she gave it to me.
Sunday night, the same surro friend said she had to run to Austin the next day for a document. She was looking to meet the Austin surros for lunch. I decided to stow away and head there with her. To get out of the house, and kind of have a girls day. It was a wonderful day, I got to meet a few more surros, in addition to my very sweet friend and lawyer Simi Denson! Another pic, below!
Yesterday morning I was greeted with a text and email letting me know that Katie and Kevin's PBO was complete and we have it ready!! Later in the day, I think the knowledge that she and Kevin really were going to get to bring Miss Molly home in probably no more than 9 weeks really hit her. I got THE sweetest text saying "Thanks for carrying my baby." I giggled and cried a little with that text. It has been a blessing and an honor to carry Miss Molly for them thus far, and thinking about the completion of it makes my heart swell with joy, pride, and gratefulness.
Today was my 32 week appointment and it went great. I've gained 4.4lbs in the last 2 weeks. A little more than typical per week at this point, but it makes up for what I lost being sick before the last appointment. And well, eating steak, and cheesecake and mexican food... and pretty much all the holiday stuff helped, I'm sure. Molly's heartbeat was a wonderful 148 (a little slower than previously but on target for 3rd trimester heart rates in general) and I measured perfectly for 32 weeks. My doctor expects me to have a little growth spurt in the next few weeks. I hope I don't disappoint!
And with that, a couple more pictures for you!
31 Weeks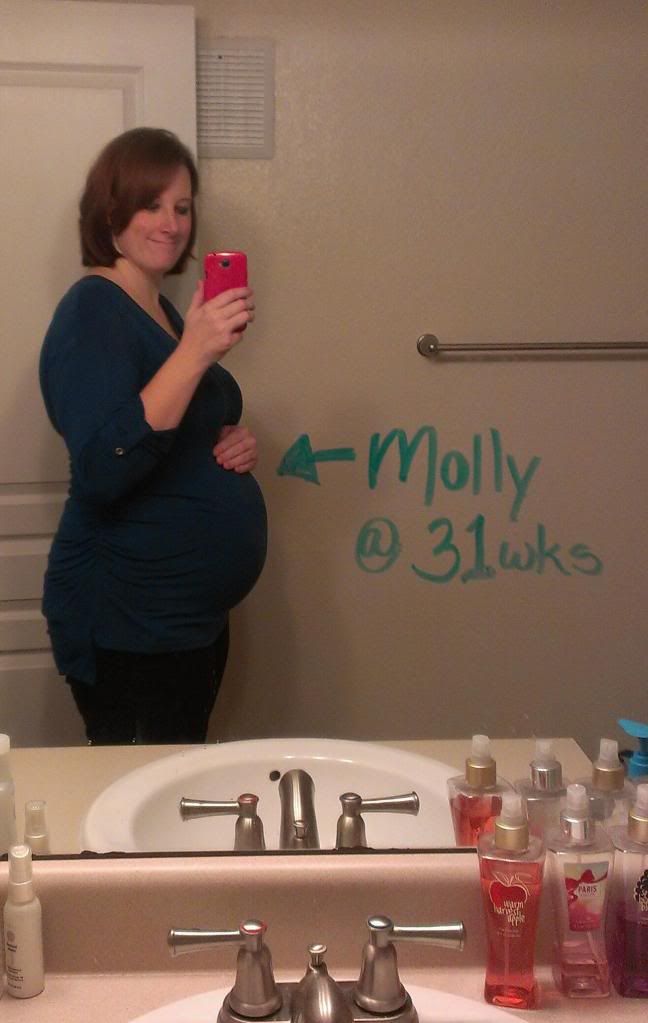 32 Weeks... some people say they see a difference...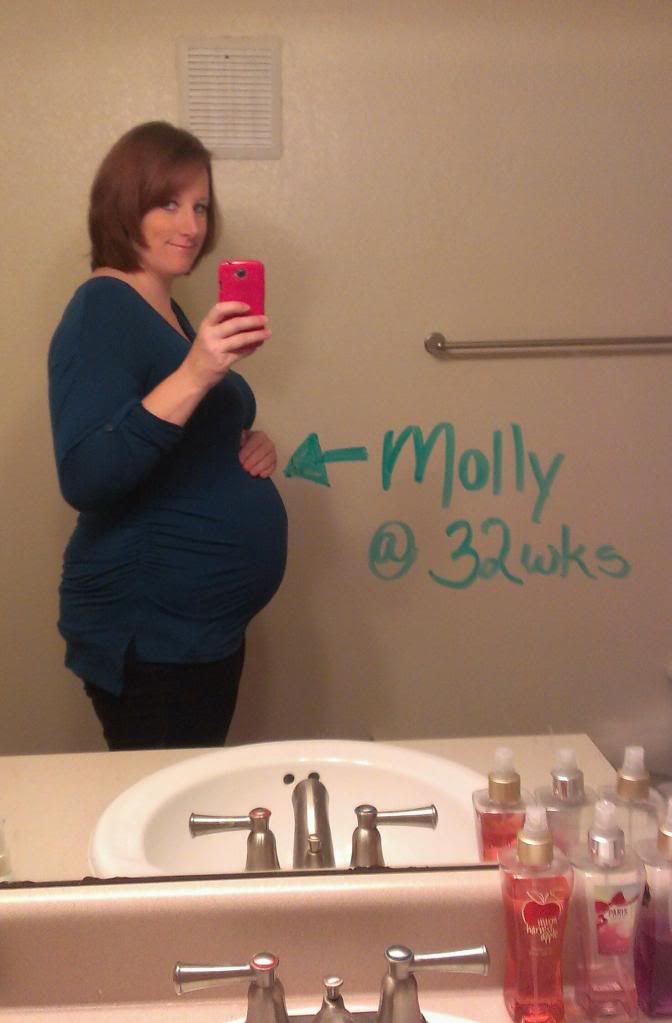 It's been a busy but fast two weeks, and I'm sure with my kids going back to school next week the next two will fly by again. Next appointment is on the 17th at 10:15. We'll see if I can't have a little growth spurt before then!
Have a great next two weeks!