Today was our first ultrasound!
I called Katie and she conferenced Kevin in so we could all "be there" together. It was a great appointment! We saw (they heard) one healthy heartbeat at 117bpm and a baby that measured 6wks 3days exactly!
Immediately when they started, I saw two sacs. Unfortunately one did not have a fetal pole. So we learned right away that there were two originally, but its likely that one stopped developing at some point. It was a much smaller sac, so it was probably something abnormal that stopped the growth.
It's all good though, we have one healthy peanut who's growing just fine!!
Congrats, Katie and Kevin!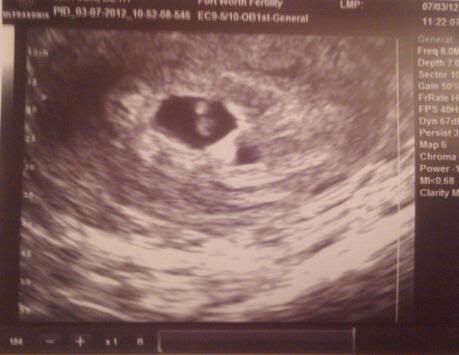 I tried to video the ultrasound but what I was using ended up turning against me and only getting the last 8 seconds of the ultrasound which was me putting it down into my paper covered lap. :/ Sorry, no video this time!!
Next ultrasound is on July 17th!!